Kirk Lybecker | News
June 15, 2010
We are pleased to announce that Washburn University, Topeka Kansas, has added to their collection the painting "Lunch at the Café Hysteria" 46x42 Oil on canvas 2006. This piece shows a little of Portland with a suggestion of the storm clouds of Kansas. The artist in recognition of Professor Ed Navone donated the painting. Professor Navone is an emeritus at Washburn University.
January 15, 2008
There will be a new show of recent paintings by Kirk at the Opus6ix Gallery22W Seventh Ave. Eugene Oregon 97401 starting on the 19th of January. The opening for the show will be on February 1st, First Friday, 6 to 9 PM. If you would like a preview of the show, go to Opus6ix Gallery .
This show is of a series of buildings mostly derived from images in the inner southeast industrial area of Portland. It is a mix of interiors and exteriors of the urban landscape.
We are also pleased to have a new selection of Giclee prints available for sale. We are including some of the recent images along with some earlier paintings that you will like.
Kirk is also pleased to announce that he has donated a painting to the University of Oregon. The transfer is to take place on January 31st The piece entitled A Dirge Sung in Brilliant Sunlight is a large oil on canvas measuring 42 x 77. The piece was finished in 2005 and was shown at the Opus6ix gallery.
We wish to thank Robert Canaga and the folks at the gallery for their help in the donation. An image of the painting can be seen below and at Opus6ix Gallery .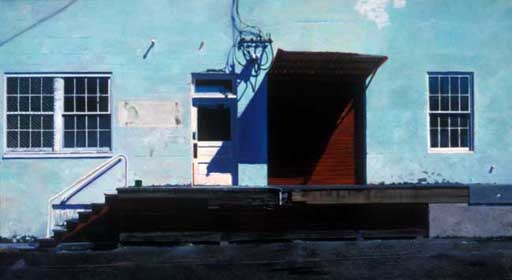 June 1 - July 15, 2007
Solo Exhibition at Opus6IX Gallery, Eugene, OR.
Please join Kirk at the reception Friday, June 1st.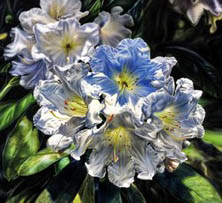 "Whispering to an Indifferent Moon" Watercolor, 45x49
Also look for Kirk's ad in the June issue of American Art Collector.